Johnson Family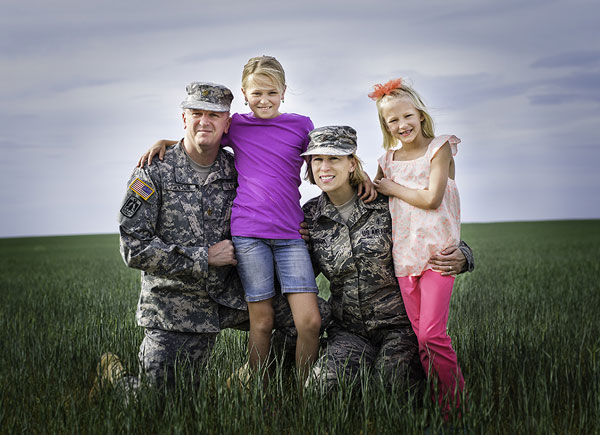 Because Altus AFB is such a unique base in that it is in a rural and remote location we were looking for a different type of experience.  It's not often a child would get to go to a school with just one classroom for each grade.  We had decided to send our children to one of the schools in the outlying communities and had it narrowed down to two.  One of the things that sealed our decision to send our kids to Duke is the number of activities that are available.
Even though it is rural there are a number of extracurricular activities to keep kids engaged.  The school having underground classrooms was a big plus as well.  I'll admit, the storms concerned me quite a bit.  The first spring we were here there was severe weather that damaged a local school.  All I could think of was how grateful my children were protected in their underground classroom.
---
NBC Today Show National Teacher of the year Finalist
Duke 3rd grade teacher Susan Bull was recently named one of 3 finalist to the NBC Today Show's national teacher of the year contest. Mrs Bull and Rashell Johnson, the Duke School parent who nominated her, traveled to New York City and appeared on the Today Show. The following is the nomination letter written by Rashell.
Mrs Susan Bull is an amazing 2nd grade teacher but a remarkable person and that is why we are nominating her for the Teacher of the Year contest. Our daughter Reese has several special needs and can be difficult to teach and care for. Before Reese's second grade year began, Mrs Bull called and came to our home to observe Reese in her natural environment and to ask questions about teaching her. Together we created activities to challenge and interest Reese. Mrs Bull also developed a minute by minute plan for Reese's school day to keep her busy and moving. Mrs Bull is not a special education teacher so this was all extra duties she took on herself. December brought forth the dreaded school play. However, Mrs Bull stepped up to the challenge again. She programmed one of Reese's augmentative communication devices so Reese could have, not one, but two speaking parts. She dressed in character and sat with Reese the entire play so she could be included. As parents, we were blown away.

Mrs Bull noticed that there were special trips and rewards provided for children who reached personal educational goals. However, nothing like this existed for special needs children. Once again, Mrs Bull delivered on her own with no pushing from parents. She developed obtainable personal educational goals for several children with a fun trip as the reward. The trip was paid for out of her own pocket to a indoor water park in another city. She shared that this should be the trip after observing each child and noticing how each loved the water. The trip was amazing! My husband cried on the way home stating" today I have enjoyed every minute being Reese's dad and that is partly thanks to Mrs Bull.".  End of year was now approaching. Our county provides an All-Star Olympics for special needs children. Mrs Bull headed up getting a banner and organizing events for three children, never blinking when she knew she was going to miss end of the school year ceremonies. Our little girl, who struggles each day, won 1st in soft ball throw, 3rd in rollerball race and 3rd in the 50 yard dash!
Thanks to this woman's heart, we once again enjoyed a special day with our child. While at the Olympics, we got word that Mrs Bull had won our schools teacher of the year award! She was told about the honor and she responded "oh i don't deserve that!". My family and the Bulls attend the same church. Mrs Bull noticed I didn't bring Reese to children's activities on Wednesday evenings. I shared my concerns and two weeks later I was approached because a "sonshine" class had been developed for children with special needs. The teacher was, surprise, Mrs Bull! I could tell more and more stories of how Mrs Bull impacted our daughters life and our life in just one small school year but I think you are able to see her heart through my stories. This woman not only sees areas that may be in need, she offers help and solutions. Mrs bull is an amazing teacher and person. I consider it an honor to have met her.
---
 Mike Harris
I am Mike Harris, a retired Air Force Officer turned teacher and coach. I married my high school sweetheart, Robyn, from Guthrie Oklahoma, and we have two adult boys, Nicholas and Andrew. After a twenty year air force career spanning from the end of the Cold War through the Second Gulf War, I decided to teach. During my military career I flew as an Air Battle Manager in AWACS, served in several headquarters, wrote joint policies on airborne reconnaissance, scripted several weapons tests on missiles and bombers, and ran a schoolhouse teaching air force officers and airmen how to employ the TPS-75 radar and control equipment in war or peacetime operations. As rewarding as my military career was, I was not ready to retire at the end of my twenty year career.


As I was preparing for retirement I learned about the shortage of motivated, quality teachers in Arizona, where I was completing my military career. I applied and was hired to teach math and coach football and track at a rather large (1800 students grades 9 – 12) high school in Avondale, Arizona near our home and the CPA firm Robyn founded in 2005. When we were offered the opportunity to come to Duke, Robyn sold her CPA firm and earned her teaching credentials in Secondary Math, English, Business, CTE and Middle and Elementary Education.
Between the two of us, Robyn and I brought 22 years experience teaching for the University of Maryland University College, 7 years owning and operating a CPA Firm and a 20 year Air Force Officer career. Robyn is our sixth grade teacher, and seventh grade geography teacher.